This page is available in following languages: English │ 日本語 │ 한국어 │ 繁體中文 │ 简体中文 
Usability & Speed
▶ Speed Up At Least 20% in Calculating Using BLM and eDesign Mesh▶ True 3D Barrel Compression Simulation in Injection and Packing Stages▶ Augmented Warpage Simulation▶ Enhanced Advanced Cooling Simulation▶ Groundbreaking Simulation Analysis for Special Pattern "Ear flow" in Injection Molding▶ Friendly and Comprehensive Simulation Platform ─ Studio▶ New Mesh Tools Create Great Convenience and User Experience▶ Integrate Moldex3D Simulation with NX and Creo Interfaces to Increase Work Efficiency
Speed Up At Least 20% in Calculating Using BLM and eDesign Mesh
We've enhanced the calculation efficiency during different stages of Filling/Packing/Cooling by re-organizing software structure, which effectively reduces overall time needed for analysis.
True 3D Barrel Compression Simulation in Injection and Packing Stages
The dynamic compression behavior of materials is simulated in barrel and nozzle stages to elevate the injection pressure accuracy. It can couple with machine response that can predict VP-switch timing more precisely.
Augmented Warpage Simulation
The Insert Molding process considers the impact of first shot deformation on second shot warpage, which can provide a more accurate prediction. Moreover, version 2020 enables engineers to consider the cooling and warpage effects induced by the timing between mold open to ejection.
Insert Molding Optimization
Consider Delay Ejection in Simulation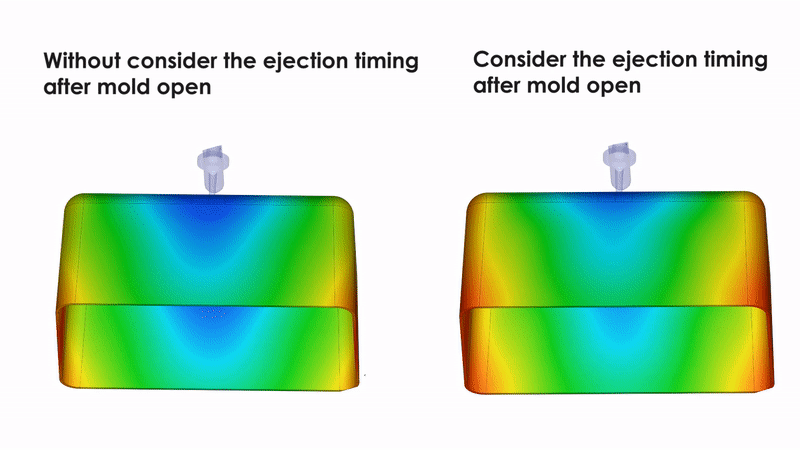 Enhanced Advanced Cooling Simulation
Customized Heat Transfer Coefficient is added as a new function. It considers the heat resistance in the mold at different stages and among different components.
Groundbreaking Simulation Analysis for Special Pattern "Ear flow" in Injection Molding
Considers critical effect of extensional viscosity to improve Flow analysis in injection molding and provide the index for evaluating and predicting the special pattern, "Ear flow."
Friendly and Comprehensive Simulation Platform ─ Studio
More comprehensive Studio capabilities:
Insert Molding analysis
RTM analysis
Stress analysis and optimization analysis of DOE
Powerful flatness roundness measuring tool (for part deformation)
Studio DOE Demo (Click here to watch more Studio demo videos)
New Mesh Tools Create Great Convenience and User Experience
New tools that simplify mesh face-fixing workflow
Geometry check and defect browser can spot defects faster
The modeling wizards have been upgraded, including gate, runner and cooling channel
Integrate Moldex3D Simulation with NX and Creo Interfaces to Increase Work Efficiency
The new integrated service helps to combine Moldex3D simulation with CAD platforms (NX/Creo). The data can be analyzed simultaneously in CAD platforms and generate reports, which greatly improves work efficiency.
Advanced Features
▶ Most Advanced Simulation for Fiber-Filled Flow ▶ Improved RTM Advanced Features▶ Upgraded Foaming Advanced Features
Most Advanced Simulation for Fiber-Filled Flow 
With the most advanced coupling calculation of fiber and flow analysis, the system can predict how fiber length and concentration impact the flowing behavior automatically.
Improved RTM Advanced Features
The prediction accuracy can be increased by referring to 2D woven fiber mat in continuous fiber composite products.
Upgraded Foaming Advanced Features
Enhanced the prediction accuracy of Foaming Process for injection pressure and clamping force by considering the impact of gas solubility and temperature.
Added retraction process simulation for Chemical Foaming Molding that goes with the market demand of new manufacturing processes.
Data-driven Teamwork
▶ iSLM ─ A New Way to Store and Manage Your Simulation Data▶ Manage Your Knowledge Systematically (Solution Management)▶ Digitalize the trial process: Results of on-site trials can be recorded online
(Mold Tryout Management)▶ Gain Product Development Insights from Your Own Database
(Knowledge Management)
iSLM ─ A New Way to Store and Manage Your Simulation Data
iSLM is a Cloud-based platform, a new way to store and manage your simulation data. Users can access iSLM via browsers to view information, such as mold design documentation, material data tables, and Moldex3D simulation projects.  These data can all be managed online to achieve a streamlined workflow.
In addition to the streamlined workflow, iSLM is also equipped with tools to collect on-site mold trial results, which can be uploaded to iSLM instantly. Moreover, users can compare results from on-site mold trials to the ones from Moldex3D simulation.  It allows users to gather data quickly and further demonstrate the digital-physical integration!
Manage Your Knowledge Systematically (Solution Management)
Through iSLM, you can manage your knowledge systematically and solve problems like incomplete backups, hardware resources consumption and complex email exchange.
Information can be accessed by multiple teams while the data is protected by permission settings
Moldex3D projects can be stored systematically, keeping the workflow open and transparent
Compare on-site mold trial and CAE simulation results simultaneously, showing digital and physical integration
Your online document housekeeper that stores paperwork and DFM records
Digitalize the trial process: Results of on-site trials can be recorded online (Mold Tryout Management)
Say goodbye to lengthy paperwork process and unreadable notes.  All on-site mold trial data can be recorded on a digital platform to create an efficient working environment.
Record on-site mold trial data online
Acquire CAE parameter hints by using Solution Management to map trial data with CAE simulation
Able to build customized templates to generate mold trial reports that meet business-standard specifications
Gain Product Development Insights from Your Own Database (Knowledge Management)
The Knowledge Management of iSLM can help industries quickly screen and compare different analyzed results via filters and user-defined categories to gain insights from their own database.
Three filters are used to make information screening more efficient
Advanced searching functions which help you locate projects faster
Compare multiple project information simultaneously to acquire product development and design inspiration
Make more comprehensive decisions by comparing mold trial data and CAE analysis
Moldex3D Material Research Center – Certified by ISO 17025 
Moldex3D Material Research Center provides reliable material data to build VIP material bank for global customers.  Since reliable analysis is built on accurate material data, we dedicate ourselves to extend our material data bank and continuously incorporate more material properties annually.
Different material features are shown on material parameters, which will further impact CAE simulation results. For instance, viscosity affects filling, PVT affects cooling and warpage, thermal conductivity and heat capacity affect temperature profiling, and mechanical properties affect warpage.  To collect the most accurate material features, numerous experiments are conducted to measure and analyze each material.
Contact Us to experience Moldex3D 2020 and download What's New.
Fill out the form to download the What's New document and have a Moldex3D representative contact you to help you learn more about Moldex3D's features and functions.